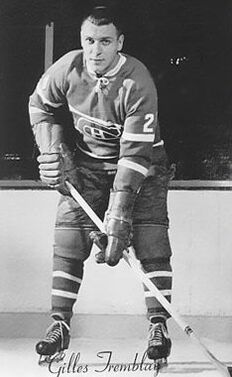 Jean Gilles Tremblay (born December 18, 1938 in Montmorency, Quebec) was a retired Canadian ice hockey left winger. He died on November 26, 2014.
Gilles Tremblay played his entire National Hockey League career with the Montreal Canadiens. His first year was in 1960 and it ended in 1969. He would win four Stanley Cups with Montreal, in 1965, 1966, 1968, and 1969.
He broke his leg in 1964-65 and the Canadiens dealt for Dick Duff to replace him. In 1968-69 a respiratory ailment caused him to retire.
He scored 168 goals and 162 assists in 509 NHL games played. His best season was 1961-62 when he scored 32 goals. In the playoffs Tremblay scored 9 goals and 14 assists in 48 games played.
After his hockey player career, from 1971 to 1997, he worked as a French language broadcaster for ice hockey; he won the 2002 Foster Hewitt Memorial Award for his outstanding work.
External links