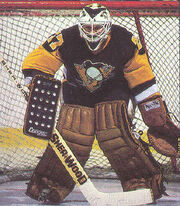 Gilles Meloche (Born July 12, 1950 in Montreal, Quebec), was a goaltender who played in the National Hockey League for the Chicago Black Hawks, California Golden Seals, Cleveland Barons, Minnesota North Stars and Pittsburgh Penguins. He is currently the goaltending coach for the Pittsburgh Penguins.
Meloche was the 70th player chosen in the 1970 NHL Amateur Draft by the Chicago Blackhawks. His first professional season was spent mostly with Flint in the International League with a two game stint with Chicago. Chicago was strong in goal with Tony Esposito, so Meloche was dealt to the California Golden Seals, one of the weakest teams in the league. In his first season with the Seals in 1971–72, he recorded a strong goals against average of 3.33 and four shutouts, including one against the league powerhouse Boston Bruins. The Seals' fortunes in the NHL continued to worsen but Meloche continued to play well as the club's number one goaltender. Meloche faced a barrage of rubber directed at the Seals' goal for another four seasons up to the franchise's relocation to Cleveland. Moving to Cleveland for two seasons, Meloche solidly backstopped the Barons with only a slight improvement in the team.
Following the Baron's merger with the Minnesota North Stars in 1978, Meloche was Minnesota's primary goalie and experienced his greatest success. Meloche spent eight seasons with the North Stars, which included two appearances in the NHL All-Star game in 1980 and 1982. Minnesota experienced play-off success as well, with an appearance in the finals in 1981 and the semi-finals in 1980 and 1984. Meloche finished his career with the Pittsburgh Penguins, playing three more seasons before retiring in 1988.
In total, Meloche played in 788 NHL regular season games over 19 seasons with a GAA of 3.64 and 20 shutouts. Largely because of his stint with the dreadful Seals/Barons teams of the 1970s, his 351 losses are the third-most in NHL history, only behind Curtis Joseph and Gump Worsley. He appeared in 45 playoff games and registered a GAA of 3.48 with 2 shutouts. Following his retirement from playing, Meloche served as a Penguins scout from 1989 to 2006 and also doubled as a goaltending coach/consultant during much of that time. He was part of the staff when the Penguins won back-to-back Stanley Cups in 1990–1991 and 1991–92.
Meloche and his wife, Sophie, reside in Pittsburgh. His son, Eric, is a professional hockey player who played in the Pittsburgh Penguins organization from 2000-04.
Gallery
External Links