GIANT Center


Location
950 West Hersheypark Drive
Hershey, PA 17033
Broke ground
November 8, 2000
Opened
October 19, 2002
Owner
Derry Township Industrial & Commercial Development Authority
Operator
Hershey Entertainment and Resorts Company
Construction cost
$65 million
Architect
Populous
Capacity
12,500 for in-the-round concerts, 10,500 for hockey
Field dimensions
17,500 sq. ft.
Tenants
Hershey Bears (AHL) (2002-present)
The Giant Center is a 12,500-seat multi-purpose arena in Hershey, Pennsylvania. It is home to the Hershey Bears ice hockey team, the longest-existing member club in the American Hockey League, joining the league in 1938. The Giant Center replaced the Hersheypark Arena as the Bears' home venue in 2002.
The Giant Center is owned by the Derry Township Industrial and Commercial Development Authority, as much of the money for its construction was provided by the Commonwealth of Pennsylvania. It is operated by Hershey Entertainment and Resorts Company, with the naming rights owned by the Giant-Carlisle grocery store chain based in Carlisle, Pennsylvania.
The largest crowd in the Giant Center's history was 10,860, which occurred on June 10, 2009 as the Bears faced off against the Manitoba Moose in Game 5 of the Calder Cup finals.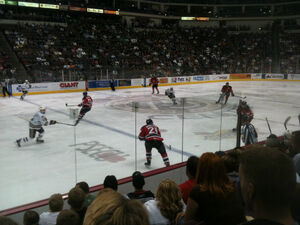 External links