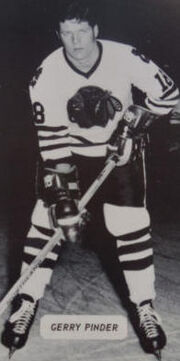 Allan Gerald "Mouse" Pinder (born September 15, 1948 in Saskatoon, Saskatchewan, Canada) is a retired professional ice hockey player who played 353 games in the World Hockey Association and 223 games in the National Hockey League. He played for the Chicago Black Hawks, California Golden Seals, San Diego Mariners, Cleveland Crusaders, and Edmonton Oilers.
Pinder played junior hockey for the Saskatoon Blades of the Saskatchewan Junior Hockey League in 1965-66. He stayed with the team as they moved to the newly formed Canadian Major Junior Hockey League (the forerunner of today's Western Hockey League) in 1966-67. Pinder was the new league's first leading scorer and first outstanding player.
He then joined the Canadian National Team, winning a bronze medal at the 1968 Olympics and playing at the 1969 World Championship.
The Blades were a farm team of the Chicago Blackhawks so it was with that team that Pinder embarked on his pro career. He played two solid seasons with the Hawks before being traded to the California Golden Seals in 1971 for Gary Smith.
Pinder spent only one season (1971-72) with the Seals and then jumped to the Cleveland Crusaders of the World Hockey Association. He played four seasons with Cleveland and then one with the San Diego Mariners in 1976-77. After a few games with the Edmonton Oilers in 1977-78, Pinder retired.
He played in 223 NHL games and scored 55 goals and 69 assists. In the WHA he played 353 games with 93 goals and 141 assists.
He later became a broadcaster on the Edmonton Oilers' local telecasts and for the CBC's Hockey Night in Canada.
Awards & Achievements
Canadian Major Junior Hockey League Scoring Champion (1967)
References