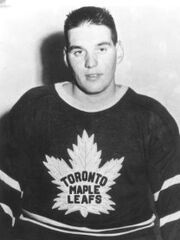 Gerry Lionel McNamara (born September 22, 1934 in Sturgeon Falls, Ontario) is a former scout and general manager with the Toronto Maple Leafs of the National Hockey League. Prior to that, McNamara was also a minor league goaltender, but made seven total game appearances with the Maple Leafs.
He started out as a backup goalie with the St, Michaels Majors of the Ontario Hockey Association Junior "A" league in 1951-52, but graduated to first-string by 1953-54.
That was the day of the six-team NHL and goaltending jobs were few and far between. His rights belonged to the Toronto Maple Leafs and he saw only limied action with the big team. Most of his career was spent in the minor pros and senior ranks. McNamara did not play in the 1964-65 and 1965-66 seasons but returned in 1966-67.He won the Allan Cup in 1972 and retired in 1973.
McNamara made a name for himself as a scout for the Leafs in 1973 when he reccomended that they sign Swedish stars Borje Salming and Inge Hammarstrom.
In 1981-82 McNamara was named co-General manager of the Leafs with Punch Imlach. The following season he got the job alone. He continued as the GM until 1988, frequently fighting with controversial owner Harold Ballard.
Awards & Achievements
[
]
External links
[
]