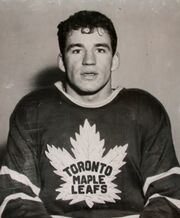 Gerry James (born October 22, 1934 in Regina, Saskatchewan) was a professional right winger who played 149 games in the National Hockey League with the Toronto Maple Leafs. He was also a running back for the Winnipeg Blue Bombers and the Saskatchewan Roughriders of the Canadian Football League and won the Grey Cup four times. He is a member of the Canadian Football Hall of Fame.
He played junior hockey for the Toronto Marlboros from 1951 to 1955 and won the Memorial Cup in 1955. He then turned pro with the Toronto Maple Leafs through the 1959-60 season, all the time also playing football. He missed the 1958-59 season because of a football injury. In the NHL he played in 149 games and scored 14 goals and 26 assists. He played one last season of pro hockey with the Winnipeg Warriors in 1960-61.
James retired from football in 1964. He then joined the senior Yorkton Terriers for three seasons, retiring in 1967. He made a one-year comeback in 1971-72.
After retiring a second time James went into coaching in the Saskatchewan Junior Hockey League, coaching the Yorkton Terriers, Melville Millionaires, and Estevan Bruins. In 1988-89 he was the coach of the Moose Jaw Warriors.
Community content is available under
CC-BY-SA
unless otherwise noted.