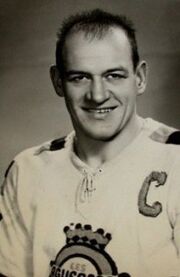 Gerry Glaude (born November 10, 1927 in Valleyfield, Quebec) is a retired Canadian defenceman who played pro hockey from 1946 to 1963, mostly in the Quebec Hockey League.
He started out with his hometown Valleyfield Braves in 1946-47. The next season Glaude joined the New York Rovers for a season and then played for the New Haven Ramblers for a year.
In 1949-50 Glaude joined the Chicoutimi Sagueneens of the Quebec Hockey League. He stayed with them until 1958-59 when the team folded. Glaude was an all-star in 1953-54, 1954-55, and 1955-56.
After Chicoutimi folded Glaude went to the Quebec Aces for a season and then played for the Muskegon Zephyrs for three more years. In 1962-63, his last season, Glaude became the first pro defenceman to score more than 100 points in a season (he scored 101).
Glaude retired in 1963.
Community content is available under
CC-BY-SA
unless otherwise noted.