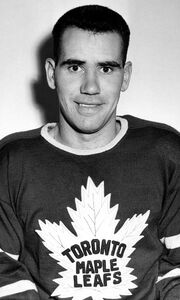 Gerald James Foley (Born - September 22, 1932 in Ware, Massachusetts and raised in Garson, Ontario) is a retired American professional ice hockey right wing who played 142 games in the National Hockey League for the New York Rangers, Los Angeles Kings, and Toronto Maple Leafs.
He played junior hockey for the St Catharines TeePees and turned pro with the Seattle Bombers in 1952-53, winning the WHL Leading Rookie award. Foley played four games with the Toronto Maple Leafs in 1954-55, and then was a regular for the New York Rangers in 1956-57 and 1957-58.
After those seasons Foley went to the American Hockey League, and played for the Springfield Indians mostly from 1959 to 1967. When the Indians were bought by the Los Angeles Kings in 1967 Foley went along. He played for the renamed Springfield Kings in 1967-68 and was called up for one last NHL game with Los Angeles on December 21, 1968 in a 2-1 loss to the Philadelphia Flyers.
He retired at the end of that season.
In the NHL Foley scored 9 goals and 14 assists in 142 games.
External Links