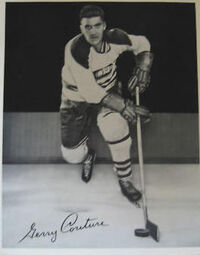 Gerald Joseph Wilfred Arthur Couture (August 6, 1925 in Saskatoon, Saskatchewan – July 13, 1994) was a Canadian ice hockey centre.
He played junior hockey with the Saskatoon Quakers, the University of Saskatchewan, Flin Flon Bombers, and Moose Jaw Canucks from 1940-45.
Couture started his National Hockey League career with the Detroit Red Wings in 1944. He would also play for the Montreal Canadiens and Chicago Black Hawks. He left the NHL after the 1954 season. He won the Stanley Cup in 1950 with the Detroit Red Wings.
His NHL totals included 385 games, 86 goals, and 70 assists. In the playoffs he played in 45 games with 9 goals and 7 assists.
Couture played in the WHL for the last four seasons of his pro career (1954-58). After sitting out the 1958-59 season, Couture finished off his playing career with the senior Saskatoon Quakers in 1959-60. He was the team coach and won the Saskatchewan Senior Hockey League Most Valuable Player Award.
Gallery
External Links