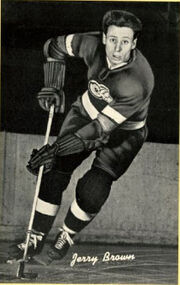 Gerald William Joseph Brown (July 7, 1917 - August 18, 1998) was a professional ice hockey player who played 23 games in the National Hockey League. Born in Edmonton, Alberta, he played with the Detroit Red Wings.
He started out in junior hockey with the Edmonton South Siders from 1933 to 1935 and the senior Edmonton Dominions from 1935 to 1937. In 1937 Brown moved to Great Britain to play two seasons for the Earls Court Rangers.
After playing two more seasons of senior hockey Brown signed as a free agent with the Detroit Red Wings in 1941. He split the 1941-42 season between the Wings and the Indianapolis Capitals. Brown then entered the Canadian military for the duration of World War II.
In 1945-46 Brown played 10 more games for the Red Wings and then played in the American Hockey League until his retirement in 1952.
In the NHL he played in 23 NHL regular season games and scored 4 goals and 5 assists. In the playoffs Brown scored 2 goals and 1 assist in 12 games.
He coached the Oshawa Generals in 1952-53 and the Quebec Aces in 1953-54.
References
[
]