Germany
Association
Deutscher Eishockey-Bund
Head coach
Toni Söderholm
Assistants
Ville Peltonen
Matt McIlvane
Alexander Dück
Captain
Moritz Müller
Most games
Philip Gogulla (164)
Top scorer
Michael Wolf (52)
Most points
Philip Gogulla (113)
IIHF code
GER
IIHF ranking
7
Highest IIHF ranking
7 (2018 (O), 2019-present)
Lowest IIHF ranking
13 (2014-2015)
Team colours

    

    

    

First international
 England 1-0 Germany 
(Montreux, Switzerland; January 10, 1910)
Biggest win
 Germany 14-0 Yugoslavia 
(Ljubljana, Slovenia; February 10, 2000)
Biggest defeat
 Soviet Union 10-0 West Germany 
(Zug, Switzerland; December 7, 1990)
 Canada 10-0 Germany 
(Prague, Czech Republic; May 3, 2015)
IIHF World Championships
Appearances
40 (first in 1928)
Best result
Silver: 1 - 1930
World Cup of Hockey
Appearances
2 (first in 1996)
Best result
Ended up in quarterfinals: 2 - 1996, 2004
Olympics
Appearances
13 (first in 1928)
Medals
Silver: 1 - 2018
Bronze: 1 - 1932
International record (W-L-T)
540-790-114
The German men's national ice hockey team first participated in serious international competition at the 1911 European Hockey Championship. When Germany was split after World War II, the hockey team was also split into the West German national ice hockey team and the East German national ice hockey team. By 1991, the teams were replaced by the current German team controlled by the Deutscher Eishockey-Bund.
The Team
The team is not considered to be as elite as Canada, the Czech Republic, Finland, Switzerland, Russia, Sweden or the USA, but they are ranked 7th in the world by the IIHF. The team has not been able to break through in the 2000s and early 2010s (with one exception in 2010 when they finished in 4th place at 2010 World Championship). But since 2015, they are getting better and better and are getting closer to the "Big Six". Since re-unification, their best recent results include finishing 2nd place at the 2018 WOG where they lost a close final match to Olympic Athletes from Russia. In the 1992 Olympics, they lost to Canada 4-3 in an overtime shoot-out in the quarter-finals.
Germany has never won an international competition, and their most recent medal was the silver in the 2018 Olympics. Their best result was a silver medal at the 1930 World Championship and at the 2018 Olympics.
There are 21,340 registered players in Germany (0.025 % of its population).
Olympic Record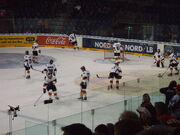 World Cup of Hockey Record
1996 - lost in quarter-finals
2004 - lost in quarter-finals
2016 - Did not participate (German players participated as a part of the Team Europe)
European Championship Record
1910 - Did not participate
1911 -  Silver
1912 -  Silver
1913 -  Bronze
1914 -  Silver
1921-1926 Did not participate
1927 -  Bronze
1929 - not ranked
1930 -  Gold
1932 - Finished in 4th place
1934 -  Gold
1936 -  Bronze
1937 -  Bronze
1938 -  Bronze
1939 -  Bronze
World Championship Record
Retired Numbers
Actual Roster
| Position | Number | Name | Born | Height | Weight | Shoots/Catches |
| --- | --- | --- | --- | --- | --- | --- |
| G | #32 | Andreas Jenike | July 14, 1988 | 5ft 11in (180cm) | 176lb (80kg) | L |
| G | #1 | Mirko Pantkowski | May 26, 1998 | 6ft 0in (183cm) | 159lb (72kg) | L |
| G | #31 | Niklas Treutle | April 29, 1991 | 6ft 2in (187cm) | 192lb (87kg) | L |
| D | #85 | Marcel Brandt | May 8, 1992 | 5ft 9in (175cm) | 190lb (86kg) | L |
| D | #67 | Bernhard Ebner | September 12, 1990 | 6ft 2in (187cm) | 198lb (90kg) | L |
| D | #5 | Korbinian Holzer | February 16, 1988 | 6ft 3in (190cm) | 218lb (99kg) | R |
| D | #68 | Oliver Mebus | March 30, 1993 | 6ft 9in (206cm) | 231lb (105kg) | L |
| D | #91 | Moritz Müller | November 19, 1986 | 6ft 2in (187cm) | 203lb (92kg) | L |
| D | #11 | Marco Nowak | July 23, 1990 | 6ft 2in (188cm) | 214lb (97kg) | R |
| D | #82 | John Rogl | May 3, 1996 | 6ft 5in (195cm) | 223lb (101kg) | L |
| D | #93 | Simon Sezemsky | June 28, 1993 | 6ft 0in (184cm) | 187lb (85kg) | R |
| D | #79 | Colin Ugbekile | September 24, 1999 | 6ft 1in (186cm) | 198lb (90kg) | L |
| F | #12 | Laurin Braun | February 18, 1991 | 5ft 10in (179cm) | 172lb (78kg) | L |
| F | #13 | Lucas Dumont | June 8, 1997 | 6ft 1in (186cm) | 176lb (80kg) | R |
| F | #96 | Andreas Eder | March 20, 1996 | 6ft 2in (189cm) | 205lb (93kg) | R |
| F | #9 | Tobias Eder | March 4, 1998 | 6ft 0in (182cm) | 183lb (83kg) | R |
| F | #40 | Alexander Ehl | November 28, 1999 | 5ft 9in (175cm) | 168lb (76kg) | R |
| F | #77 | Daniel Fischbuch | August 19, 1993 | 5ft 11in (180cm) | 179lb (81kg) | R |
| F | #93 | Maximilian Kastner | January 3, 1993 | 6ft 0in (183cm) | 176lb (80kg) | L |
| F | #94 | John Jason Peterka | January 14, 2002 | 5ft 11in (180cm) | 192lb (87kg) | L |
| F | #78 | Daniel Pfaffengut | May 12, 1996 | 5ft 11in (180cm) | 154lb (70kg) | R |
| F | #25 | Daniel Schmölz | January 25, 1992 | 5ft 11in (180cm) | 201lb (91kg) | L |
| F | #10 | Justin Schütz | June 24, 2000 | 5ft 11in (181cm) | 181lb (82kg) | L |
| F | #95 | Frederik Tiffels | May 20, 1995 | 6ft 0in (183cm) | 192lb (87kg) | L |
| F | #27 | Sebastian Uvira | January 26, 1993 | 6ft 2in (189cm) | 214lb (97kg) | L |
Team Staff
| Role | Name | Born |
| --- | --- | --- |
| Sports director | Christian Künast | March 7, 1971 |
| Head coach | Toni Söderholm | April 14, 1978 |
| Assistant coach | Ville Peltonen | March 24, 1973 |
| Assistant coach | Matt McIlvane | November 2, 1985 |
| Asistant coach | Alexander Dück | April 22, 1980 |
| Goaltending coach | Ilpo Kauhanen | October 21, 1973 |
| Video coach | Thomas Schädler | October 24, 1967 |
| Athletic coach | Jannik Kirchenkamp | |
| Team manager | Horst Fuchs | April 10, 1972 |
| Team doctor | Bastian Ipach | |
| Physiotherapist | Thomas Stubner | |
| Physiotherapist | Simon Seyr | October 3, 1988 |
| Media/PR | Ruben Stark | |
| Equipment manager | Christian Menningen | March 18, 1965 |
| Equipment manager | Sascha Engel | |
| Equipment manager | Sigi Hempel | November 11, 1977 |
Links
See also