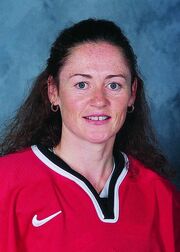 Geraldine Heaney (born October 1, 1967 in Belfast, Northern Ireland) is an Irish-Canadian ice hockey head coach and retired defenceman. She is head coach for the University of Waterloo women's hockey team. She is generally regarded as among the best female ice hockey players, being compared to Bobby Orr.
Career
[
]
Heaney began playing for the Toronto Aeros at the age of 13[1], winning six provincial championships. Heaney played 18 years with the Beatrice Aeros. [2] She played for the Canadian national women's hockey team winning seven (1990, 1992, 1994, 1997, 1999, 2000, 2001) gold medals at the IIHF World Women Championships, the only woman to have won gold in all seven events. She was named All-Star of the 1992 and 1999 teams. At the 1992 and 1994 Championships, she earned the Directorate Award for Best Defenceman.
She won a silver medal at the 1998 Winter Olympics in ice hockey at the 1998 Winter Olympics, a gold medal at the 2002 Winter Olympics in Salt Lake City, and gold again at the 2006 Winter Olympics in Turin.
Heaney won a bronze medal with Team Ontario and was named Top Defenceman at the 2001 Esso Women's National Hockey Championship. She won a gold medal with Ontario at the 2000 Esso Women's National Hockey Championship and was named Most Valuable Defenseman at 1999 Esso Nationals. She participated in every Women's National Championship from 1987 to 2001—the only player to do so—and was named OWHA Senior AA Most Valuable Defenceman in 1987–1988, 1991–1992, and 1992–1993.
She played for the World Roller Hockey Championship winning a gold medal in 1992 and a silver medal in 1994.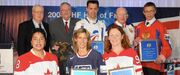 In 2008, she was part of the first group of female hockey players to be inducted into the International Ice Hockey Federation Hall of Fame. The other inductees were Cammi Granato and Angela James.[3]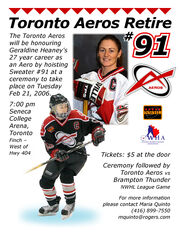 Personal
[
]
Heaney is the daughter of Mike and Kathleen. She has two brothers, Damien and Mike, and two sisters, Catherine and Colleen. She was raised in Weston, Ontario.
Awards and honors
[
]
Most Valuable Player at the 1992 Women's Canadian National Hockey Championships[4]
Best Defender, 1993 Canadian women's national championship
Best Defender, 1997 Canadian women's national championship
Best Defender, 2001 Canadian women's national championship
References
[
]