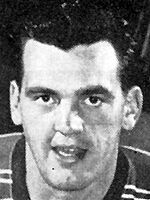 George Senick (b. September 16, 1929 in Saskatoon, Saskatchewan - d. January 13, 2003) was a professional ice hockey player who played 13 games in the National Hockey League. He played with the New York Rangers.
He played junior hockey with the Saskatoon Quakers in 1946-47. He then turned pro in 1947-48 with the Omaha Knights and played in the minor pros in the United States until 1950-51.
The Western Canada Senior Hockey League changed its status from senior to major in 1950-51 which allowed its teams to sign pros. Senick took advantage of that to some play for his hometown Saskatoon Quakers. Senick stayed with the Quakers while they joined the Pacific Coast Hockey League (later the Western Hockey League. In 1952-53 he earned a brief callup to the New York Rangers where he scored 2 goals and 3 assists in 13 games.
In 1954-55 he was accquired by the Vancouver Canucks. He finished the season with the Spokane Flyers. In 1955-56 he played for the Brandon Regals and in 1956-57 for the Seattle Americans.
In 1957 Senick joined the senior Sudbury Wolves for two seasons. In 1959 Senick again returned to his hometown and played for the now senior Saskatoon Quakers until he retired in 1966.
Community content is available under
CC-BY-SA
unless otherwise noted.