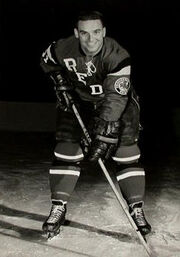 George Dominic Ranieri (born January 14, 1936 in Toronto, Ontario) was a professional left winger who played two games in the National Hockey League. He played with the Boston Bruins.
He played junior hockey for the Barrie Flyers from 1953 to 1956. Turning pro in 1956-57, Ranieri played his two games for the Bruins that season. He played minor pro hockey with various teams, mostly the Louisville Rebels until 1960-61.
In that season Ranieri joined the Providence Reds, with whom he played until his retirement in 1965.