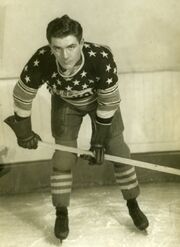 George Massecar (July 10, 1904 in Waterloo, Ontario – July 14 1957) was a retired professional ice hockey player who played 100 games in the National Hockey League. He played for the New York Americans.
He played senior and minor pro hockey with the Niagara Falls Cataracts from 1925 to 1928. He turned pro with the New Haven Eagles in 1928-29.
In 1929 he was accquired by the New York Americans and scored in his first NHL game. He played 100 games over two and a half seasons with the Americans and scored 12 goals and 11 assists.
He lost his spot with the Americans in 1931-32. He played in the minor pros until his retirement in 1937.
External Links
[
]