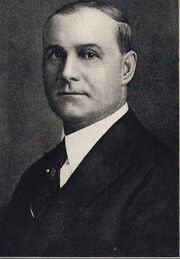 George Lewis "Tex" Rickard (January 2, 1870 - January 6, 1929) was an American boxing promoter, and founder of the New York Rangers National Hockey League (NHL) franchise. During the 1920s, Tex Rickard was the leading promoter of the day, and he has been compared to P.T. Barnum and Don King.
Tex Rickard was awarded an NHL franchise in 1926 to compete with the now-long-forgotten New York Americans. The team was immediately dubbed "Tex's Rangers", and the nickname stuck. Rickard managed to get future legendary Toronto Maple Leafs coach Conn Smythe to assemble the team, but Smythe was replaced by Lester Patrick before the inaugural season. The team turned out to be a winner; in their first season, the Rangers finished atop the American Division, but would lose to the Boston Bruins in the playoffs. Tex Rickard also founded the South America Land and Cattle Company and the Rickard Texas Oil Company.
The Rangers won the Stanley Cup over the now defunct Montreal Maroons in only their second year in business, but it was not without some desperation: coach Patrick had to be their goaltender for two periods of game two of the finals after regular goalie Lorne Chabot was injured. He opened "Boston Madison Square Garden" in 1928. The name got clipped to Boston Garden.
He was engaged in fight promotion in Miami Beach when he died January 6, 1929, of complications following an appendectomy.