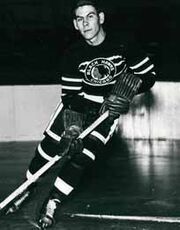 George "Wingy" Johnston (July 30, 1920 in Winnipeg, Manitoba - April 20, 2006) was a Canadian Professional Hockey Right Winger who played parts of four seasons in the National Hockey League for the Chicago Black Hawks.
He started out in senior hockey with the Duluth Zephyrs in 1938-39 and the Saskatoon Quakers in 1939-40. After turning pro with the Providence Reds in 1940-41 Johnston had a two game trial with the Blackhawks in 1941-42 (scoring twice) and playede 30 more games in 1942-43.
Johnston spent the nedxt two seasons playing senior hockey in Canada. In 1945-46 he returned to pro hockey and split two seasons between the Blackhawks and the Kansas City Pla-Mors. In 1947-48 and 1948-49 he played in the American Hockey League and then joined the Tacoma Rockets for five seasons.
He finished his career playing two seasons for the Spokane Flyers and retired in 1955.
In the NHL Johnston played in 58 games and scored 20 goals and 12 assists. He only receieved two penalty minutes.