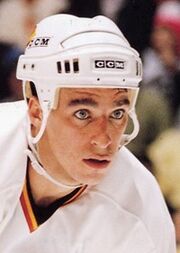 Geoffrey "Geoff" Courtnall (b. August 18 1962 in Duncan, British Columbia, Canada) is a retired professional left winger who played in the National Hockey League from 1983 to 2000.
An undrafted free agent signed by the Boston Bruins in 1983, Courtnall was a Bruin until he and Bill Ranford were traded to the Edmonton Oilers for Andy Moog, where he won the Stanley Cup. A mere four months later, he was traded again, this time to the Washington Capitals for Greg C. Adams. Interesting anecdote, both players hailed from the same village, Duncan, B.C., a village of less than 5000 people.
Courtnall only stayed two season with the Caps before being traded to the St. Louis Blues for Mike Lalor and Peter Zezel. There again, he couldn't establish himself for a long time; he was part of a blockbuster trade that sent him, Robert Dirk, Sergio Momesso, Cliff Ronning and future considerations to the Vancouver Canucks for Garth Butcher and Dan Quinn. The Canucks gained solid help from those players, who ultimately helped them reach the Stanley Cup Finals in 1994. After a single more season in Vancouver, Courtnall was back in St. Louis in 1995. There, injuries forced him to retire in 2000.
Courtnall is the current head coach of the Victoria Grizzlies of the British Columbia Hockey League.
His brother Russ Courtnall also played in the NHL. His son, Justin Courtnall, has been drafted by the Tampa Bay Lightning 210th overall in the 2007 NHL Entry Draft.
Community content is available under
CC-BY-SA
unless otherwise noted.