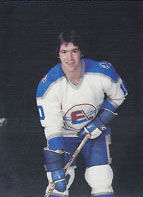 Gaston Therrien (born May 27, 1960 in Montreal, Quebec) is a retired Canadian professional defenceman who played 22 games in the National Hockey League for the Quebec Nordiques, scoring 8 assists.
He played Tier II Junior "A" for the Cap de la Madeleine Barons and major junior for the Quebec Remparts. Selected 129th overall by the Quebec Nordiques in the 1980 NHL Entry Draft, he saw only limited action with the Nords over the next three seasons.
In 1983 Therrien moved to France where the larger ice surface better suited his game. He played with various teams there until his retirement in 1993.
He was a coach in the Quebec Major Junior Hockey League with the Rimouski Océanic in 1995-96 & 1996-97 and the Montreal Rocket in 2000-01 & 2001-02.
Awards
External links