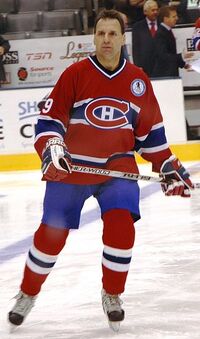 Gaston Reginald Gingras (b. February 13, 1959 in Timiskaming, Quebec) is a retired professional ice hockey defenceman who played ten seasons in the National Hockey League.
In 1974 he played for the North Bay Trappers of the Ontario Provincial Junior A Hockey League and then with the Kitchener Rangers of the Ontario Hockey League, followed by the Hamilton Fincups also of the OHL. He then joined the World Hockey Association for the 1978/79 season with the Birmingham Bulls.
Gingras spent one season in Birmingham, joining Michel Goulet, Rick Vaive, Craig Hartsburg, Rob Ramage, Pat Riggin and Keith Crowder. It was around this time that the WHA merged into the NHL.
In the 1979 NHL Entry Draft, Gingras was drafted by the Montreal Canadiens. Although he wasn't picked until the second round, and was 27th overall, he was Montreal's first pick, ahead of other notables such as Mats Näslund, Guy Carbonneau and Rick Wamsley. Playing first with the Nova Scotia Voyageurs of the American Hockey League, he joined the Canadians in the 1979–80 NHL season. Gingras played four seasons at the Montreal Forum, before being traded to the Toronto Maple Leafs for 2½ seasons.
In the middle of the 1984–85 season he was sent to the AHL where he played for the St. Catharines Saints and was then traded to the Sherbrooke Canadiens. Along with other notables, such as Patrick Roy, Stephane Richer, Brian Skrudland and Ric Nattress, the Sherbrooke Canadiens won the Calder Cup in 1984-85.
For the 1985–86 season he returned to the Montreal Canadiens and was part of their Stanley Cup winning team that beat the Calgary Flames four games to one.
In the 1987–88 season he played two games for the Canadians before moving to the St. Louis Blues for almost two seasons. Near the end of the 1988–89 season he moved to Switzerland to play for EHC Biel followed by Hockey Club Lugano.
He then moved on to play for Hockey Club Gardena in Italy before returning to Canada to play for the Fredericton Canadiens where he was a player/coach until he retired. He did return after retiring to play a few games with the Chesapeake Icebreakers of the, ECHL, in their final season.
In his NHL career, Gingras played 476 games scored 61 goals and 174 assists for a total of 235 points while collecting 161 penalty minutes in the regular season. In the National Hockey League playoffs he scored 6 goals and 18 assists for 24 points in 52 games and collected 20 penalty minutes.
Community content is available under
CC-BY-SA
unless otherwise noted.