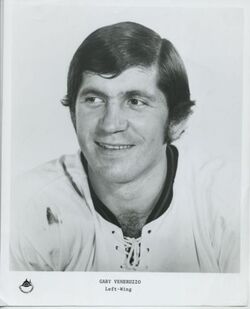 Gary Veneruzzo (born June 28, 1943 in Fort William, Ontario) is a retired professional ice hockey left winger who played 7 games in the National Hockey League and 348 games in the World Hockey Association. He played with the St. Louis Blues, Los Angeles Sharks, Michigan Stags, Baltimore Blades, Cincinnati Stingers, Phoenix Roadrunners, and San Diego Mariners.
He played junior hockey in the Thunder Bay League with the Fort William Canadiens and Port Arthur North Stars from 1959 to 1963 and also played for the senior Fort William Beavers. The Toronto Maple Leafs owned his NHL rights and he played in the Leafs' minor system from 1964 to 1967 when he was claimed by the St. Louis Blues in the 1967 NHL Expansion Draft.
Venruzzo played 5 games for the Blues in 1967-68 and then 2 more in 1971-72 but spent the rest of his time in the minors until 1972. In that year he jumped to the Los Angeles Sharks of the World Hockey Association.
He burst out with the Sharks, scoring 73 points in 1972-73 and then 68 in 1973-74 and 60 with the relocated Michigan Stags/Baltimore Blades in 1974-75. He played two more seasons in the WHA and then played two seasons for the senior Thunder Bay Twins. He retired in 1979.
In the NHL Veneruzzo played in 7 games and scored 1 goal and 1 assist. In the WHA he scored 151 goals and 123 assists in 348 games.
External links
Edit
Community content is available under
CC-BY-SA
unless otherwise noted.