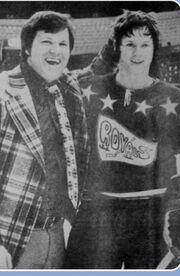 Gary MacGregor (born December 21, 1954 in Kingston, Ontario) was a former ice hockey centre. He played professionally in the World Hockey Association with the Chicago Cougars, Denver Spurs, Ottawa Civics, Cleveland Crusaders, New England Whalers, Indianapolis Racers, and Edmonton Oilers.
He played junior hockey for the Cornwall Royals from 1971 to 1974, winning the Memorial Cup in 1972. The Montreal Canadiens chose him 30th overall in the 1974 NHL Amateur Draft while the Chicago Cougars picked him 10th in the 1974 WHA Amateur Draft.
MacGregor opted for the Cougars rather than try to crack the powerful Canadiens' lineup. He scored 42 goals for Chicago in 1974-75. After that his career took a downswing as he jumped between several WHA teams. He retired in 1982.
In the WHA he played in 251 games and scored 90 goals and 70 assists.
MacGregor died on April 20, 1995, at the age of 40 in Kingston, Ontario.
Awards
External links