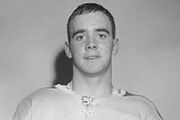 Daniel Patrick "Gary" Dineen (December 24, 1943 in Montreal, Quebec - April 1, 2006 in Springfield, Massachusetts)was a former Canadian Olympian, career minor league hockey player who played four games for the Minnesota North Stars of the NHL, and best known as a top developer of hockey talent in the Springfield area.
Dineen played junior hockey for the St. Michaels College Majors and the Neil McNeil Maroons and won the Memorial Cup in 1961 with the Majors. In 1963 he joined the Canadian National Team and played in the 1964 and 1968 Olympics. As well he represented Canada in the 1965, 1966, and 1967 World Championships.
He turned pro in 1968 in the Minnesota North Stars' organization and played four games for the NHL team in 1968-69.
He was a key member of the Springfield Kings when they won the Calder Cup championship of the American Hockey League in 1970-71, and would go on to coach and GM the Springfield Kings and Springfield Indians for several years.
In 1972 he helped form the Springfield Olympics of the New England Junior Hockey League where he coached the 'Pics to several Wallace Cups as league champions, and remained part of the franchise until his death. He helped develop several players who would go on to division 1 and 2 college hockey programs. He also had a few of his former players go on to successful careers in the NHL, including Bill Guerin. Dean Lombardi, current President and General Manager of the Los Angeles Kings of the National Hockey League, also played for Dineen in the mid-late 1970s.
Dineen, a native of Montreal, made West Springfield, Massachusetts his home with his wife and daughter for well over 30 years.
External Links