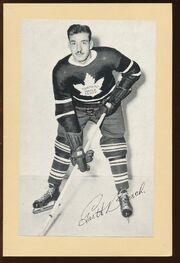 Garth Vernon Boesch (October 7, 1920 in Milestone, Saskatchewan – May 14, 1998) was a professional ice hockey defenceman in the NHL.
Playing career
Boesch played four seasons with Toronto and was a member of three Stanley Cup winning Maple Leafs teams in 1947, 1948 and 1949.
When Garth Boesch joined the Notre Dame Hounds junior hockey team as a 17-year-old in 1937-38 it marked the start of his ascent to the NHL but also a major controversy of those times, which followed him throughout the balance of his hockey career.
During his second season at Notre Dame Boesch decided to grow a moustache, which in those days was not strictly forbidden but highly frowned upon by most junior and professional teams. "I started growing it at 18," Boesch recalled. "It caused a lot of commotion at the time, but I felt it was my right. It was not effecting my playing ability and I liked the look." Boesch was the property of the NHL's New York Americans in 1941. Americans' General Manager Red Dutton was told of Boesch's facial hair and his refusal to shave it. "If that's the case then he's got two strikes against him before he even gets to training camp."
Despite the tough talk from the Americans, Boesch kept the moustache. However, another obstacle arose when Boesch was denied entry into the United States from Canada in 1941 due to wartime travel restrictions. Boesch played senior hockey for three years with the Regina Rangers and the Lethbridge Maple Leafs. He had already won the Allan Cup with the Regina Rangers in 1940-41. He missed the 1943-44 season at the height of the war.
He returned to sporadic action in 1944-45 playing with the Winnipeg RCAF Bombers. Boesch was back playing hockey full-time the following season with the Pittsburgh Hornets, a Toronto Maple Leafs farm team. His rights had been transferred to Toronto in a special Dispersal Draft in 1943. With the moustache still plainly visible, Boesch suited up for 35 contests with the Leafs in 1946-47 scoring four goals and nine points.
Boesch played four seasons with Toronto and was a member of three Stanley Cup winning Leafs' teams in 1947, 1948 and 1949. He retired in 1950.
He died of heart disease at the age of 77 on May 14, 1998.
Gallery
External Links