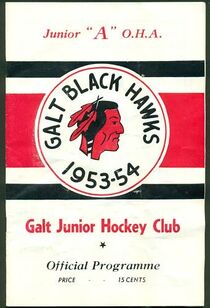 History
[
]
The Galt Rockets, who were playing without a NHL parent team, were taken over by the Chicago Black Hawks in 1949. The team was renamed the Galt Black Hawks.
The team played six seasons in the OHA Junior A, winning only one playoff series in 1952-53.
In 1954-55 they were jointly sponsored by the Chicago Black Hawks and the Boston Bruins. In that season they lost $6,000. Boston and Chicago both switched their sponsorships to other junior teams.
This combination of financial losses and lack of NHL sponsorship caused the team to fold.
Season-by-Season Results
[
]
Season
Games
Won
Lost
Tied
Points
Goals
for
Goals
against
Standing
Playoffs
1949-50
48
14
32
2
30
144
265
8th
Lost Semi Final
1950-51
54
21
29
4
46
181
223
8th
Lost Quarter Final
1951-52
54
35
17
2
72
307
213
3rd
Lost Quarter Final
1952-53
56
27
26
3
57
242
225
5th
Lost Semi Final
1953-54
59
21
37
1
43
204
287
8th
out of playoffs
1954-55
49
18
25
6
42
181
203
6th
Lost Quarter Final
Galt Black Hawks who played in the NHL

[

]