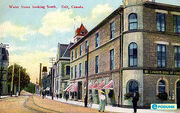 Galt was a town in the western part of Southern Ontario just to the south of Kitchener. In 1973 it was amalgamated with the towns of Preston and Hespeler to form the city of Cambridge.
(OHA Sr., 1891-1893; 1905-1908; 1923-1925; 1926-1927
(OHA Jr., 1901-1902; 1904-1905; 1910-1914; 1918-1920; 1921-1931; 1932-1933)
(OHA Jr., 1924-1925)
(OHA Sr. B, 1929-1930) to Intermediate A
(OHA Intermediate A 1930-1932)
(Canadian Professional Hockey League, 1929-1930) join OPHL
(Ontario Professional Hockey League, 1930-1931)
(OHA Sr. B, 1932-1935)
(OHA Sr. A, 1935-1935) withdrew before play; join OHA Intermediate A
(OHA Intermeidate A, 1935-????
(OHA Sr. B, 1940-1941)
(OHA Sr. A, 1960-1962)
Champions
Edit
External Links
Edit
Community content is available under
CC-BY-SA
unless otherwise noted.