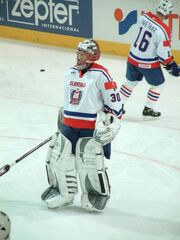 Gaber Glavič (b. March 11th 1978 in Jesenice, Slovenia) is a professional goaltender who plays for Acroni Jesenice of the Erste Bank Eishockey Liga.
Glavič played his whole career with his hometown club Acroni Jesenice, except for the 1999-00 season, which he split between Skellefteå AIK of the Elitserien and ES Weißwasser of the 2.Bundesliga.
Glavič regularly takes part in the international competitions with the Slovenian National Team. He used to be the top netminder, but he recently has been topped by Robert Kristan.
External Links