The Fredericton Red Wings [1][2] are a Canadian junior ice hockey franchise from St. Stephen, New Brunswick. The team is a member of the Maritime Hockey League and plays in the Eastlink North Division. They play their home games in the Grant-Harvey Centre in Fredericton, New Brunswick.
History
The team was founded in 2014 as an expansion team then called the County Aces in the Maritime Hockey League [3] The Aces are part of the Eastlink North Division formerly the Roger Meek Division and are the MHL's 12th team.[4] The team was renamed the St. Stephen Ace prior to the start of the 2016-17 season.
Relocation to Fredericton
On April 15, 2019 the ownership of the St. Stephen Aces announced they would be selling the team.[5] The league would announce that the team would be relocated to the Grant-Harvery Centre in Fredericton, New Brunswick for the 2019-20 season.[6]
Season-by-season record
| | | | | | | | | | | |
| --- | --- | --- | --- | --- | --- | --- | --- | --- | --- | --- |
| Season | GP | W | L | OL | SL | GF | GA | P | Results | Playoffs |
| 2014-15 | 48 | 6 | 40 | 2 | - | 106 | 273 | 14 | 12th MHL | DNQ |
| 2015-16 | 48 | 10 | 36 | 2 | - | 124 | 242 | 22 | 12th MHL, 6th North | DNQ |
| 2016-17 | 50 | 16 | 26 | 6 | 3 | 183 | 216 | 41 | 9th MJAHL, 4th North | L, DSF 0-4, (Timberwolves) |
| 2017-18 | 50 | 12 | 36 | 0 | 2 | 112 | 215 | 26 | 12th MHL, 6th North | DNQ |
| 2018-19 | 50 | 20 | 27 | 3 | 0 | 138 | 174 | 43 | 9th MHL, 4th North | L, DSF 0-4 (Western Capitals) |
| 2019-20 | 52 | 28 | 19 | 5 | - | 176 | 161 | 61 | t-6th MHL, 4th North | Playoffs cancelled before start |
| 2020-21 | 25 | 11 | 12 | 1 | 1 | 84 | 100 | .480 | 5th North | W, DF 2-0 (Timberwolves |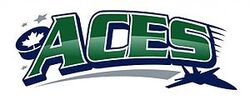 External links
References