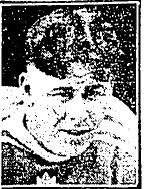 Frederick A. Robertson (born October 22, 1911 in Carlisle, England – September 20, 1997) was a professional ice hockey player who played 34 games in the National Hockey League. He played with the Boston Bruins and Toronto Maple Leafs and Detroit Red Wings. He won the Stanley Cup in 1932 with Toronto.
He played junior hockey for the Toronto Canoe Club from 1928 to 1930 then spent several seasons playing senior and mercantile hockey in Toronto. Robertson made his pro debut with the Toronto Maple Leafs in 1931-32 and won the Stanley Cup.
His rights were sold to the Detroit Red Wings in 1933-34 and he played 24 games for them, scoring a goal - his only NHL point.
Robertson played in the minor pros until his retirement in 1946. Included were ten straight seasons playing for the Cleveland Barons in the American Hockey League.
Community content is available under
CC-BY-SA
unless otherwise noted.