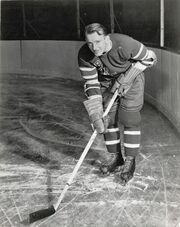 Fred Hunt was born on January 17, 1917, in Brantford, Ontario. He was a Canadian right wing who played for the New York Americans and the New York Rangers of the National Hockey League.
He played junior hockey for the Brantford Lions and the St Michaels College teams. From 1937-40 Hunt played in the Eastern Hockey League. In 1940-41 he was called up to the New York Americans for 15 games.
The Americans folded in 1942 and his rights went to the New York Rangers. After playing for the Buffalo Bisons as they won consecutive Calder Cups in 1943 & 1944, Hunt played in 44 game for the Rangers in 1944-45.
After that year he returned to the Bisons, winning another Calder Cup in 1946. He retired in 1949.
He became an assistant coach of the Bisons in 1952 and the General manager in 1953. He was also the coach of the Bisons in 1958-59, 1966–67, and 1967-68. Hunt won two more Calder Cups in 1962-63 and 1969-70 to go along with his three as a player.
After the Bisons folded in 1970 because of the Buffalo Sabres, Hunt became assistant general manager of that team and later general manager of their AHL farm team, the Cincinnati Swords. In 1973, he won his sixth Calder Cup with the Swords.
The Fred T. Hunt Memorial Award of the American Hockey League is named after him.