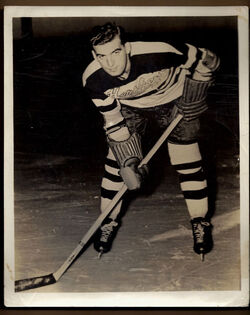 Fred Hergerts (January 29, 1913 – 1998) was professional ice hockey player who played 20 games in the National Hockey League with the New York Americans, scoring 2 goals and 4 assists. He was born in Calgary, Alberta.
Hergerts played junior hockey for the Calgary Canadians and senior with the Calgary Bronks and the Drumheller Miners. He turned pro in 1933-34 in the International League.
He caught the attention of the New York Americans in 1935-36 and played 19 games for them in 1934-35. Unfortunately that was almost the extent of his NHL experience (he played one more game for New York in 1935-36).
He played in the minor pros until 1946-47, mostly with the St. Louis Flyers. They won the American Hockey Association titles in 1939 and 1941.
In 1947 Hergerts returned to his hometown to play one season for the senior Calgary Stampeders. The next year he moved to the Nelson Maple Leafs where he played until his retirement in 1951.
External Links
[
]