Honoured Member of the Manitoba Hockey Hall of Fame - Builders Category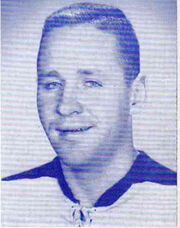 Fred Creighton was born in Port Arthur, Ontario on June 24, 1933. He was was raised in Hamiota, Manitoba. He was a Canadian centre and coach.
He never played in the NHL, Creighton played in the Western Hockey League (minor pro) from 1955–60 and in the American Hockey League and the Eastern Hockey League from 1960-66.
Creighton began his coaching career in 1963-64 as a playing coach with the Charlotte Checkers of the Eastern Hockey League. He continued as coach after his retirement as a player in 1966 until 1972.
He was then coach of the Central Hockey League (CHL)'s Omaha Knights from 1972-75. In 1972-73 he won the league championship and the Jake Milford Trophy as best coach.
This helped get him the job as the Atlanta Flames' coach in 1973-74. He stayed there until 1979-80 when he coached the Boston Bruins for most of one season.
After that he moved back to the CHL and the Indianapolis Checkers. Creighton won the league championship in 1981-82 and 1982–83 and the Milford Trophy in 1981-82.
He finished off his career as coach of the Springfield Indians from 1985-88.
He passed away September 28, 2011 at the age of 81 due to complications from Alzheimer's Disease.
External links