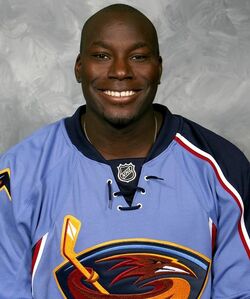 Fred Brathwaite (b. November 24th 1972 in Ottawa, Ontario, Canada) is an African-Canadian ice hockey goaltender currently playing for Adler Mannheim of the Deutsche Eishockey Liga. He previously played in the National Hockey League for the Edmonton Oilers, Calgary Flames, St. Louis Blues and Columbus Blue Jackets.
Born to parents who had emigrated to Canada from Barbados in 1964, Brathwaite was signed to the National Hockey League as an undrafted free agent following his junior days in the Ontario Hockey League. After several season with the Oilers and their farm affiliates, he joined the Flames in 1998. In Calgary, his acrobatic style made him a fan-favourite; chants of "Freddy" were common after brilliant saves from him.
In 2001, Flames General Manager Craig Button traded Brathwaite to the St. Louis Blues along with Daniel Tkaczuk, Sergei Varlamov and a nineth round pick in the 2001 NHL Entry Draft (Grant Jacobsen) for Roman Turek and a fourth round pick in the same draft (Igor Shastin). There again, Brathwaite was back-up goaltender.