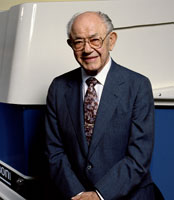 Frank Joseph Zamboni, Jr. (January 16, 1901 – July 27, 1988) was a U.S. inventor whose most famous invention is the modern ice resurfacer.
Biography
Edit
Zamboni was born in Eureka, Utah to Italian immigrants. His parents soon bought a farm in Lava Hot Springs near Pocatello, Idaho, where he grew up. In 1920, he moved with his parents to the harbor district of Los Angeles, where his older brother George was operating an auto repair shop. After Frank attended a trade school in Chicago, he and his younger brother Lawrence opened an electrical supply business in 1922 in the Los Angeles suburb of Hynes (now part of Paramount). The following year, he married and eventually had three children. In 1927, he and Lawrence added an ice-making plant and entered the block ice business. They continued their ice business in 1939 but saw little future in that business with the recent advent of electrically operated refrigeration units. They decided to use their excess refrigeration equipment to open an ice rink nearby.
In 1940, the brothers, along with a cousin, opened the Iceland rink, which proved very popular, in no small part because Frank had devised a way to eliminate rippling caused by the pipes that were laid down to keep the rink frozen. (The rink still operates and is still owned by the Zamboni family.) He obtained a patent for that innovation in 1946. Then, in 1949, he invented a machine that transformed the job of resurfacing an ice rink from a three-man, 90-minute task to a one-man, 10-minute job. He applied for a patent that same year and set up Frank J. Zamboni & Co. in Paramount to build and sell the machines. He obtained his patent in 1953. In the early-1950s he built them on top of Jeep CJ-3Bs, then on stripped Jeep chassis from 1956 through 1964.[1] Demand for the machine proved great enough that his company added a second plant in Brantford, Ontario and a branch office in Switzerland. Though the term Zamboni was (and remains) trademarked by his company, the name is sometimes improperly used for any brand of ice resurfacing machine.
In the 1970s, he invented machines to remove water from outdoor artificial turf surfaces, remove paint stripes from the same surfaces, and roll up and lay down artificial turf in domed stadiums. His final invention, in 1983, was an automatic edger to remove ice buildup from the edges of rinks.
He died of lung cancer in 1988 at the age of 87, about two months after his wife's death. The Zamboni company has sold over 8,500 of its signature machine, the Zamboni Ice Resurfacer, commonly known as a "Zamboni."[2] The company is still owned and operated by the Zamboni family, including Frank's son and grandson.
In 2009 Zamboni was elected into the US Hockey Hall of Fame. Zamboni will be inducted posthumously.
External Links
Edit
Community content is available under
CC-BY-SA
unless otherwise noted.