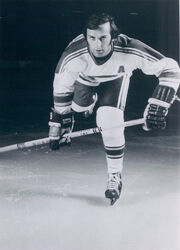 Francis Leo St. Marseille (born December 14, 1939 in Levack, Ontario) is a retired a Canadian ice hockey right wing.
St. Marseille started his National Hockey League career with the St. Louis Blues in 1967. He would also play for the Los Angeles Kings. He would retire from the NHL after the 1977 season.
He is a great example of perseverance. St. Marseille played amateur hockey in his hometown of Levack and was ignored by NHL teams. He played senior hockey for the Chatham Maroons in 1962-63 and then with the same team in the International Hockey League in 1963-64. When the team folded in 1964, St. Marseille moved to the Port Huron Flags for three seasons.
He got his big break in 1967 when the expansion St. Louis Blues signed him as a free agent in 1967. After 11 games with the farm team Kansas City Blues (where he scored 7 goals and 8 assists) he got called up to the NHL team. He spent six solid seasons as a Blues regular, putting up good offensive numbers (79 goals) and playing well defensively.
In mid-season 1972-73, he was traded to the Los Angeles Kings for Paul Curtis and played there for four and a half seasons, continuing his steady play. He left the National Hockey League near the end of the 1976-77 season to become an assistant coach of the Fort Worth Texans.
In 1977-78 he became the playing coach of the Nova Scotia Voyageurs. He retired at the end of the season and coached the Voyageurs for one more season. After that he was an assistant coach of the Los Angeles Kings for several seasons.
In the NHL, St. Marseille played in 707 games and scored 140 goals and 285 assists. His game total is he more impressive when one realizes that he played his first NHL game when he was just short of 28 years old.
Gallery
[
]
External Links
[
]