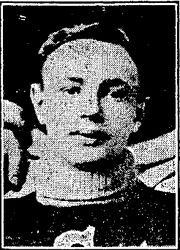 Frank G. Rankin (April 1, 1889 in Stratford, Ontario - July 23, 1932) was a Canadian ice hockey rover who played junior and senior hockey in the Ontario Hockey Association (OHA).
He played for the Stratford junior team that won the OHA title for three straight years - 1907, 1908, and 1909. The next year he joined the Toronto Eatons senior team that won the senior OHA title in 1911 and 1912. He scored 15 goals in just four games in 1911.
He then joined the St. Michaels College senior team and played for them until 1915 when he joined the military for World War I.
In all he made the OHA senior first all-star team in 1911 and 1913, and the second team in 1912, 1914, and 1915.
In 1924, he coached the Toronto Granites to the Allan Cup in 1923. The next year he coached the team to the gold medal at the 1924 Olympics.
He was inducted into the Hockey Hall of Fame in 1961.
External links
Edit
Community content is available under
CC-BY-SA
unless otherwise noted.