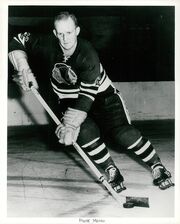 Francis William "Frank" Martin (born May 1, 1933 in Cayuga, Ontario - died February 18, 2007 in St. Catharines, Ontario) is a retired professional ice hockey defenceman who played 282 games in the National Hockey League. He played for the Boston Bruins and Chicago Black Hawks. He was one of the few ambidextrous shooters in the NHL at the time.
He played junior hockey for the St Catharines TeePees from 1949 to 1952. Martin then turned pro with the Hershey Bears in 1952-53 and played well enough to be called right up to the Boston Bruins. He then played all of 1953-54 with the Bruins.
The Chicago Blackhawks traded Murray Costello to the Bruins to accquire Martin. He played three full seasons for the Hawks and was selected to play in the 1955 NHL All-Star Game.
In 1957-58 he was sent down to the Buffalo Bisons of the American Hockey League. Martin played three seasons for the Bisons, then four with the Quebec Aces and finished off his career with the Cleveland Barons in 1964-65.
In the NHL Martin played in 282 games and scored 11 goals and 46 assists.
He was the coach of the Junior "B" St. Catharines Falcons in 1968-69.
Community content is available under
CC-BY-SA
unless otherwise noted.