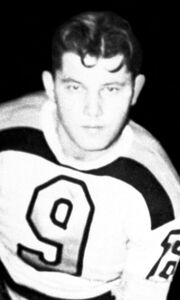 Frank George Mario (b. February 25, 1921 in Esterhazy, Saskatchewan - d. June 18, 1995) was a professional ice hockey player who played 53 games in the National Hockey League. He played with the Boston Bruins.
He played junior hockey for the Regina Abbotts in 1939-40 and senior for the Regina Rangers in 1940-41, winning the Allan Cup that year. Mario played 9 games for the Boston Bruins in 1941-42 and also played for the Hershey Bears. He then played for the senior Cornwall Army team in 1942-43 and joined the Canadian military for 1943-44.
Returning to hockey in 1944-45, he played a full season for the Bruins. Mario then played seven seasons for the Hershey Bears and one (1952–53) for the Quebec Aces. He retired in 1953.
In the NHL he played in 53 games and scored 9 goals and 19 assists.
He then turned to coaching. His first job was with the senior Cornwall Colts in 1953-54. Later he coached the Regina Pats from 1956 to 1962, the Peterborough Petes from 1962 to 1965, and the Victoria Maple Leafs in 1965-66.
References