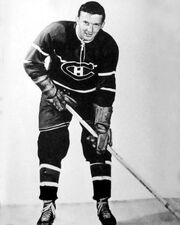 Frank Edward King
is a retired Canadian professional ice hockey forward who played 10 games in the National Hockey League for the Montreal Canadiens.
He played junior hockey for the Brandon Wheat Kings from 1947 to 1949. In 1949-50 he turned pro with the Minneapolis Millers. The Montreal Canadiens accquired him in 1950 and brought him up for 10 games in 1950-51, scoring one assist.
King finished the 1950-51 season with the Springfield Indians and then embarked on a senior career with the Quebec Aces, Halifax Atlantics, Sudbury Wolves, and finally six seasons with the Vernon Canadians. He retired in 1960.
Traded to Montreal by Cleveland (AHL) for cash, April 12, 1950.
Loaned to Seattle (PCHL) by Montreal for cash, January 9, 1951.
Traded to Providence (AHL) by Montreal (Cincinnati-AHL) for Roger Bedard, January 29, 1951.
Signed as a free agent by Halifax (MMHL), October 6, 1952.
Turnbull Cup Manitoba Junior Hockey League Championship (1949)
Abbott Cup Western Canada Junior A Hockey Championship (1949)
United States Hockey League Championship (1950)
Quebec Senior Hockey League Championship (1952)
Alexander Cup Canada Major Hockey Championship (1952)
Maritime Major Hockey League Championship (1953)
Okanagan Senior Hockey League Championship (1955, 1956, 1957, & 1959)
British Columbia Senior Hockey Championship (1955, 1956 & 1959)
Patton Cup Western Canada Senior Hockey Championship (1956 & 1959)
Allan Cup Canada Senior Hockey Championship (1956)
Community content is available under
CC-BY-SA
unless otherwise noted.