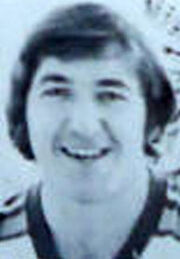 Frank Hughes (born October 1, 1949 in Fernie, British Columbia) is a retired professional ice hockey left wing who played 392 games in the World Hockey Association and 5 games in the National Hockey League. He played for the Houston Aeros, California Golden Seals, and Phoenix Roadrunners.
He played junior for the Edmonton Oil Kings and was chosen 43rd overall by the Toronto Maple Leafs in the 1969 NHL Amateur Draft. He turned pro with the Phoenix Roadrunners and remained with them through the 1971-72 season. Hughes did make his NHL debut with the California Golden Seals in 1971-72 after they accquired him in the intra-league draft from the Leafs. However that debut only lasted five games and Hughes did not score a point.
In 1972 Hughes jumped to the Houston Aeros of the World Hockey Association (WHA). He played four solid seasons for the Aeros, helping them win the Avco World Trophy in 1974 and 1975. In 1974-75 Hughes scored 48 goals for the Aeros.
In the middle of the 1976-77 season, Hughes was traded by Houston to the Phoenix Roadrunners. When that team folded in 1977, Hughes signed as a free agent by the Aeros.
The Aeros themselves folded in 1978. Hughes spent the 1978-79 season in the Pacific Hockey League and then retired.
In the WHA Hughes played in 392 regular season games and scored 173 goals and 180 assists. In the WHA playoffs, he played in 54 games and scored 24 goals and 16 assists.
Gallery
References