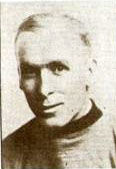 Frank Corbett "The Flash" Foyston (February 2, 1891 – January 19, 1966) was a Canadian professional forward.
Born in Minesing, Ontario, Foyston played for the Toronto Maple Leafs and Detroit Cougars in the National Hockey League, and the Seattle Metropolitans and Victoria Cougars in the Pacific Coast Hockey Association.
He won the Stanley Cup with Toronto in 1914 and helped the Metropolitans become the first American team to win the Cup in 1917. He also helped the Cougars win the cup in 1925. He was inducted into the Hockey Hall of Fame in 1958.
Foyston was also head coach of the Syracuse Stars from 1930 to 1931 in the IHL, and the Bronx Tigers from 1931 to 1932 in the CAHL. Foyston later became a scout for the Detroit Red Wings. Foyston died in Seattle, Washington, in January 1966, at the age of 74.
External links