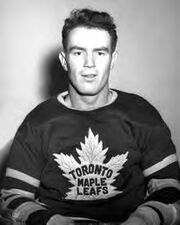 Frank "Judge / Bill" Dunlap (b. August 10, 1924 in Ottawa, Ontario - d. September 26, 1993) is a retired Canadian ice hockey right winger. He played in the NHL for the Toronto Maple Leafs.
He played junior hockey with the Ottawa St Patricks in 1941-42 and then moved to the St. Michael's Majors for the next two seasons. In 1943-44 he also played for the Toronto Maple Leafs. Because he was in law school (hence the nickname Judge) he only played in Leafs' home games as well as some Majors' games. He ended up playing 15 games for each team, scoring one assist for the Leafs.
Dunlap played four more seasons of senior hockey with teams in the Ottawa area. He retired in 1948.
He also played professional football in Canada.
External links
[
]