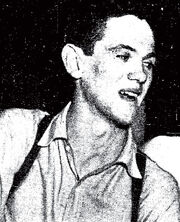 Frank Bennett (born March 4, 1922) was a professional ice hockey left winger who played seven games in the National Hockey League. Born in Toronto, Ontario, he played with the Detroit Red Wings.
He played Junior "B" for the St. Michael's Buzzers from 1939 to 1941 and Junior "A" fro the St. Michael's Majors from 1941 to 1943. In 1943-44 he played for Assumption College in Windsor, Ontario and was called up for seven games with the Detroit Red Wings, scoring one assist.
After that season he played two years in the American Hockey League and then three seasons in the Quebec Senior Hockey League with the Shawinigan Falls Cataractes. He retired in 1948 after spending a season with the Dolbeau Castors of the Lac St. Jean Intermediate League.
References
[
]