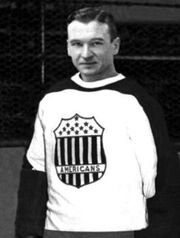 Frank Beisler (October 18, 1913 – September 8, 1973) was an American ice hockey defenceman. He played in the NHL for the New York Americans, totalling 2 games and no points. He was born in New Haven, Connecticut.
He played for the Hershey Bears of the Eastern Hockey League in 1933-34, being named to the first all-star team. Beisler then moved up to the New Haven Eagles of the International American League for four seasons, earning a one game call-up to the New York Americans, on February 9, 1937. Moving to the Springfield Indians in 1938, he had one last game with the Americans during the 2-1 loss to the Boston Bruins on March 7, 1940.
He never played in the NHL again, but earned all-star status in 1941 and 1942 with Springfield and 1943 with the Buffalo Bisons. Beisler spent two seasons with the Bisons and then joined the American military in World War II 1944-45.
After the war Beisler played 4 games with the Bisons in 1945-46 while coaching them. These were his last games. He won the Calder Cup that season and stayed with the Bisons until 1947. Beisler then coached the Baltimore Clippers, Washington Lions, New Haven Eagles, Syracuse Warriors, and the New Haven Blades.
External Links