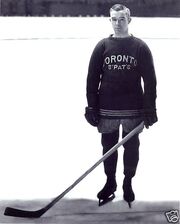 James Francis "Dutch" Cain (b. February 1, 1902 in Newmarket, Ontario - d. January 13, 1962) was a Canadian professional ice hockey defenceman who played two seasons in the National Hockey League for the Toronto St. Pats and Montreal Maroons.
Playing career
He played junior hockey in the Toronto area for Toronto St Marys and Toronto Aura Lee. In 1923-24 he won the Memorial Cup playing with the Owen Sound Greys.
Cain played defence for the Montreal Maroons and the Toronto St. Pats. His NHL career was short lived, consisting of only 61 regular season games. Cain ultimately found success in the International Hockey League winning two league championships as a member of the Buffalo Bisons.
Cain's cousin, Herb Cain also played in the National Hockey League.
NHL Career statistics
Note: GP = Games played, G = Goals, A = Assists, PTS = Points, PIM = Penalties in minutes
External links