France is a country of Western Europe with a population of about 65,000,000. The country shares terrestrial borders with Spain, Belgium, Luxembourg, Germany, Switzerland and Italy; it shares a maritime border with Great Britain.
History of hockey in France
France was one of the earliest European nations to play ice hockey; it already had a national team in 1905. It was also a former French player, Louis Magnus, who created the International Ice Hockey Federation (IIHF) in 1908 along with representatives from France, Belgium, Great Britain and Switzerland.
Consequently, it is no surprise that the Championnat de France (French Championship), from which evolved the current Ligue Magnus, appeared as soon as 1903.
Organization
Ice hockey in France works accordingly to a promotion and relegation system. Besides the league system, there is also a national Cup (la Coupe de France). Another Cup, the Coupe de la Ligue (League's Cup) is a tournament played within the Ligue Magnus. A special match, the Match des Champions (Champions' Match) is also played between the Ligue Magnus winner and the Coupe de la League winner. The winner of that match earns the Jacques Lacarrière Trophy.
International
France

Info

Rinks

Players

Referees

130


Population

65,447,374

Indoor

130

Total

17,133

Male

--

Capital

Paris

Outdoor

24

Male

6,041

Female

--

IIHF Since

October 20 1908

Junior

9,572

Female

1,520
The French men's national ice hockey team has participated in the IIHF European Championships, the IIHF World Hockey Championships and the Olympic Games. They are currently ranked 14th in the world in the IIHF 2009 world rankings. It is controlled by the Fédération Française de Hockey sur Glace. The only French player currently in the NHL is goalie Cristobal Huet, although Philippe Bozon formerly played for the St. Louis Blues. French Womens, U20, U18, and Womens U18 teams have also participated in world championships.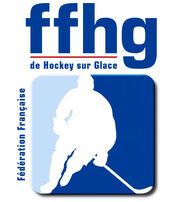 Europe's first official hockey team, the Patineurs de Paris, was formed in 1903. They played their first international game against a team from London.
[2][3]France staged its first national hockey championship in 1904, which made it the second country in Europe after Great Britain. Two years later, the French national team played its first game against Belgium.
Some great French players
National Teams