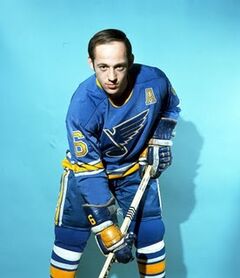 Anthony Francis Huck (born December 4, 1945 in Regina, Saskatchewan) is a retired player. He represented Canada at the 1968 Olympics. He would also play in the National Hockey League and World Hockey Association with the Montreal Canadiens, St. Louis Blues, Winnipeg Jets, Minnesota Fighting Saints, and Denver Spurs.
Fran Huck had a spectacular junior career with the Regina Pats. He scored 86 goals in 1963-64 and 77 goals in 1964-65. His achievements included winning the scoring title, making the All Star team and being named league MVP.
After junior Huck chose to join the Canadian National team instead of the NHL, where his rights were held by the Montreal Canadiens. At the time the national team program, run by Father David Bauer, afforded hockey players the alternative of playing hockey while also pursuing higher education and he wished to study law. He was with the national team from 1965 to 1969 winning a bronze medal at the 1968 Olympics and also bronze at the IIHF World Championships in 1966 and 1967.
Huck then began his professional career, first for a brief time with the Montreal Canadiens then for two seasons with the St. Louis Blues and with Denver of the WHL. He then moved over to the WHA and played with the Winnipeg Jets and Minnesota Fighting Saints. He retired after the 1977-78 season.
He scored 24 goals and 30 assists in 94 NHL games played.
Honours and Awards
Named to First All-star Team 1966 and 1968 IIHF World Championships.
Most valuable player award 1971-72 WHL
Inducted into the International Ice Hockey Federation Hall of Fame in 1999.
Inducted into the Saskatchewan Sports Hall of fame in 2006.
Gallery
Externa Links