The Four Broncos Memorial Trophy is awarded each year to the Western Hockey League's Player of the Year.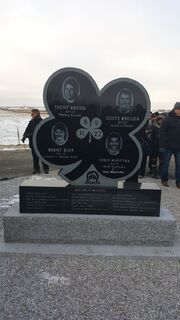 The trophy is named in honour of four members of the Swift Current Broncos who died in an accident when the team bus was en route to a game. Trent Kresse, Scott Kruger, Chris Mantyka and Brent Ruff died on December 30, 1986.
Up to 1993-94, this trophy was the Most Valuable Player Award. As of 1994-95, the WHL Player of the Year receives this trophy.
Winners
Note: CHL Player of the Year highlighted
MVP

Note: 1The WHL handed out separate MVP awards for the East and West Divisions in 1985-86 and 1986-87.


References
2019–20 WHL Guide
Player of the Year (1975 thru 1994)
1994: March 23 Medicine Hat News / 1993: March 24 Lethbridge Herald / 1992: April 11 Brandon Sun / 1991: April 14 Brandon Sun / 1990: April 14 Brandon Sun / 1989: April 10 Brandon Sun / 1988: April 12 Brandon Sun / 1987: April 10 Brandon Sun / 1986 - 1975: Hockey Draft Central