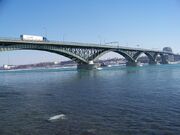 Fort Erie is a city of about 30,000 in southern Ontario, Canada. It is located at the southeastern tip of the Niagara peninsula across the Niagara River from Buffalo, New York.
(Canadian Professional Hockey League, 1929-1930) join IHL
(International Hockey League, 1929-1936) join IAHL
(International-American Hockey League, 1936-1936) suspend operations on Decbember 6, 1936, after Peace Bridge Arena roof collapsed on March 17, 1936 as this arena was the only arena in Buffalo area large enough to host minor league hockey and they were playing out of an arena in Niagara Falls, Ontario, which was inadequately sized for minor league hockey
(Ontario Hockey Association Jr., 1932-1933)
(Ontario Hockey Association Sr. B, 1932-1933)
Community content is available under
CC-BY-SA
unless otherwise noted.