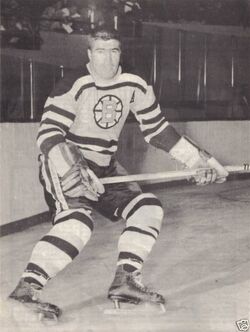 Fleming David Mackell (born April 30, 1929 in Montreal, Quebec, Canada) is a retired Canadian ice hockey forward.
Playing career
Edit
Mackell began his National Hockey League career with the Toronto Maple Leafs in 1948. The majority of his career was spent with the Boston Bruins where he would retire following the 1960 season. MacKell won two Stanley Cups with the Maple Leafs in 1949 and 1951. He is the son of former Ottawa Senator Jack MacKell.
He played junior hockey with the St. Michaels College Majors in 1946-47. Mackell won the Eddie Powers Memorial Trophy as the leading scorer and the team won the Memorial Cup that year.
He was selected on the NHL 1rst All Star team in 1952-53. That same season, He won the Elizaeth C. Dufresne Trophy as the best Boston Bruin during home games. He centered a line compsed of iron man Cal Gardner and rookie of the year, Calder Trophy winner Larry Regan in 1956-57. Along with later linemate, Don McKenney, Mackell led all scorers during the 1958 Stanley Cup playoffs. He was a side ot the net scoring specalist, as was a Boston Bruin alternate captain for many years. Upon leaving Boston, Flem MacKell was the player coach of the Quebec Aces of the American Hockey League during the 1960-61 season.
Mackell retired in 1965. In the NHL he played in 665 games and scored 149 goals and 220 assists. In the playoffs he played 80 games and scored 22 goals and 41 assists.
External links
Edit
Community content is available under
CC-BY-SA
unless otherwise noted.